Kids sets Wear is the tough and expensive selection anyone can make.
Why is it the toughest and most expensive? The trends are kept on changing year by year and another new purchase is necessary and your kids are growing every year!
WeOrango launches its first-of-a-kind kids sets that is less expensive and easy to select.
What you need is to add to the cart with just purchase and present your kids to the family!
Buying a kid's wear for your boy or girl needs to take note a lot of things, it's first looks and appearance that urges them to take a look and take a measurement, colour matches, and finally, choose to buy it. It all depends on their cloth quality and branded selling quantity that makes it perfect for a customer. We have the best in-house manufacturing and delivery at best kids shopping sites WeOrango.
Any occasion is best to purchase for your kids whether it be a birthday party or present to someone, the selection is the foremost important thing to deliver. Your colour choice and perfection make you buy.
Showcasing style for kid's wear is the change of trends & fashion that you follow according to the time. Wearing a branded dress makes them unique and know the value of a brand and a company. Children today are fussy to choose and it's our way of shopping that helps to select them later as they grow up to buy the best stylish brand and it keeps of changing the habit of loving to stick on one brand or trying out other ones.
Some Common Problems to consider before buying Kids sets wear
Elasticity
Some clothes we buy for our children are tighter and not fit for the latter so we need to buy a stretchy fabric to wear for our children that is good and wear loosen and not tear easily.
Colour Fade
Most times we buy clothes for our kids and after a wash or so in a month been the color may fade out and doesn't look much good in a way to wear and the first beauty of the new clothes have been gone easily.
Size Decrease
We buy clothes for our children according to their size and after some time we may face the problem of short sizes than it mentioned it creates problem in using it so to sort that problem we keep an extra size to for the future use.
Outdated
Most clothes that we buy for kids can be outdated in fashion and style but still, some people buy them because of their simplicity and others buy them by mistake which they realize as outdated.
Thin Clothes with No Quality
Some clothes fabric quality is so cheap and thin clothes and at one single wash, it may tear and not lasts for future use.
Types of Kids sets Wear
Boy's Clothing
For boys under age 5, these are some Top short sets for kids, toddlers, and babies, a pack of Half Sleeves Tee and shorts are the best of choice.
For boys above 5 years, we have stylish T-shirts and pants, polos, denim, cargo, and shorts that are the best-selling and these are the most demanding in the market and most updated on trends.
Girl's Clothing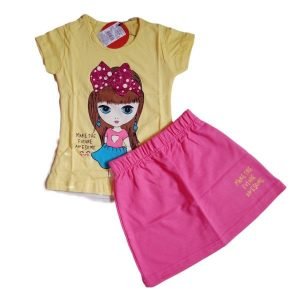 For girls under age 5 dresses like pantaloons, kids top set and skirt for the girl child, bodysuits and lowers and frocks few other types are best to select.
For girls above 5 years, we have a lot more variety in style skirts, jeans, trousers shorts, skirts frock dress, kids top with skirt set and girls cotton blazer style shirt and pant set and more in stylish kids partywear gowns, sherwani, kurta, pyjama, dhoti are the in-demand stylish trending dresses to shop for girls as they grow up.
Why go shops to shops and make your time consuming to buy when your best selection is at the hands of a single click. Search for kids dresses near me and you will find WeOrango in the results and shop for your favorite dresses.